---

View Trailhead Park Map Use in a larger map
---
One-way mileage: 1.8 miles
Difficulty: Moderate +
Elevation: Start 750 feet, Summit: 1581 feet, Total Ascent 796 feet.
Warning: Rattlesnakes have been spotted on this trail during warm, summer months.

---
Both the Badger Canyon (Family) hiking trail and Sagebrush trail start at Trailhead Park.  Trailhead Park is at 525 Queensgate Drive in Richland.  From I-182, take the Queensgate exit heading south to the light at Keene Road.  Turn west on Keene Road to the signal light at Shockley Road near the Bethel Church.  Turn south and follow the road up the hill.  It will veer left and turn into Queensgate, follow the road up the hill past the Westcliffe pillars to the park at the top of the road.  There is a parking area at the corner of Queensgate and White Bluffs or you can park along the curb near the restrooms at the park.  This can get a little congested in the summer when trail use is heavy.This is the newest trail on Badger Mountain. Created and maintained by Friends of Badger and many volunteers. It starts at Trailhead Park. Heading south up the hill, the first ascent is up a steep hill with steps and switchbacks.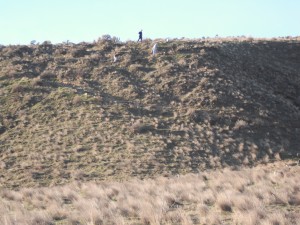 The Sagebrush Trail and the Skyline Trail on the west end of Badger Mountain are the ONLY trails which are approved for bicycling.  You have to carry your bike up the first part of the main trail to the turnoff at the top of the stairs as the Sagebrush Trail forks to the left (the Canyon or Family Trail continues on up the draw to the right this trail is for hikers only!). Follow the Sagebrush Trail up the ridge, it meets with another starting spur to the left that originates at the water towers (the water towers are on private property and are not accessible). Switchbacks help temper the elevation gain. Then, you hit the terrain that gives this trail it's name, a patch of raw Badger Mountain sagebrush. As you head toward the eastern end of the mountain, some sagebrush reaches six feet tall.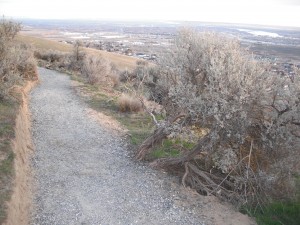 The trail slowly meanders through the sagebrush then around the south side of the mountain. It slowly slopes to the top, emerging at the antenna towers. This is a great mountain bike trail but it is dual use with hikers too so you must ride courteously and cautiously.  If you are fit, you can ride all the way to the top.  Then, you can turn around and glide down in about 8 minutes or longer if you want a gentler pace.  Check out the video below for a view of the ride down.  This is an enjoyable mountain bike ride with beautiful views of the Tri-Cities.  It is particularly enjoyable starting in the spring with the desert wildflowers in bloom.